I moved to Taos in 2018 knowing I'd be working for Taos Ski Valley, the best ski resort in New Mexico, known worldwide for their advanced terrain. I was going to get to work in the mountains and ski for free, a dream come true! I took the first job they gave me. Well, I applied for it, followed up, and basically demanded an interview. I had to get out of Texas and needed to align my life so I could ski again. The job was Guest Services Supervisor at The Blake Hotel. I leaned heavily on the motel experience I gained from 2016-2017 in Salida, Colorado working for my friend at his new venture, "The Amigo Motor Lodge". I have to say that managing staff, catering to hotel guest needs, and being an expert at the most unintuitive software ever was more of what I did than skiing. But it didn't matter, I was able to drive up to the mountains each day, live in a home with a great view, and ski a fair amount. I was able to ski 55 days during the '18-'19 season!
I spent over a year at the hotel making people happy through the ski season and summer's slower, but event-packed, weekends. I got to the point where I felt confident doing just about everything that the job entailed. I was, of course, still photographing for fun but mostly landscapes and life documentation. Then, I learned the Taos Ski Valley Marketing team was looking for a Content Creator. I applied, interviewed, and quickly found out that I got the job. I felt bad leaving the team at the hotel, but I was going to get paid to ski and take photos… literally my dream job.
For those who haven't been to Taos, let me paint you a picture. Taos is STEEP. I've always felt I was a good skier, but Taos taught me I'm decent at best. The first time I hiked up to the expert-only area of Highline Ridge I relied on the bravado I had from skiing in Alaska. Thinking I'd be prepared for anything, I took my skis off my shoulder, clipped into the bindings, and scootched towards the edge. I'll admit my knees shook a bit looking down the mountain, which was much steeper than I imagined. Being at a low latitude, much of the expert runs combine both the steepness and trees for a truly challenging zip down the mountain. When I took on the role of Content Creator I knew I'd be doing many types of photography for the resort. A lot of what I'd be doing in winter was skiing with athletes that would be a lot better than me.
My first few outings were easy because we only had one lift and a handful of runs open. They were all groomed and no harder than green and blue trails. Quickly, snow filled in more of the mountain, and we were able to open our hike to expert-only terrain. I found myself following local Freeride World Tour skier Emma Patterson to promote the opening on our social media channels. With my skis over my shoulder, huffing and puffing my way up, one step at a time, we headed up. She wanted to take a warm-up run and asked if I'd be coming with her. Still trying to catch my breath I told her to go ahead and I'd just wait up top for her. She made it down the slope in about 7 turns…exactly how you might expect a pro skier to ski. This was my first experience with the high skill level of athletes I'd be skiing with and trying to keep up with all season.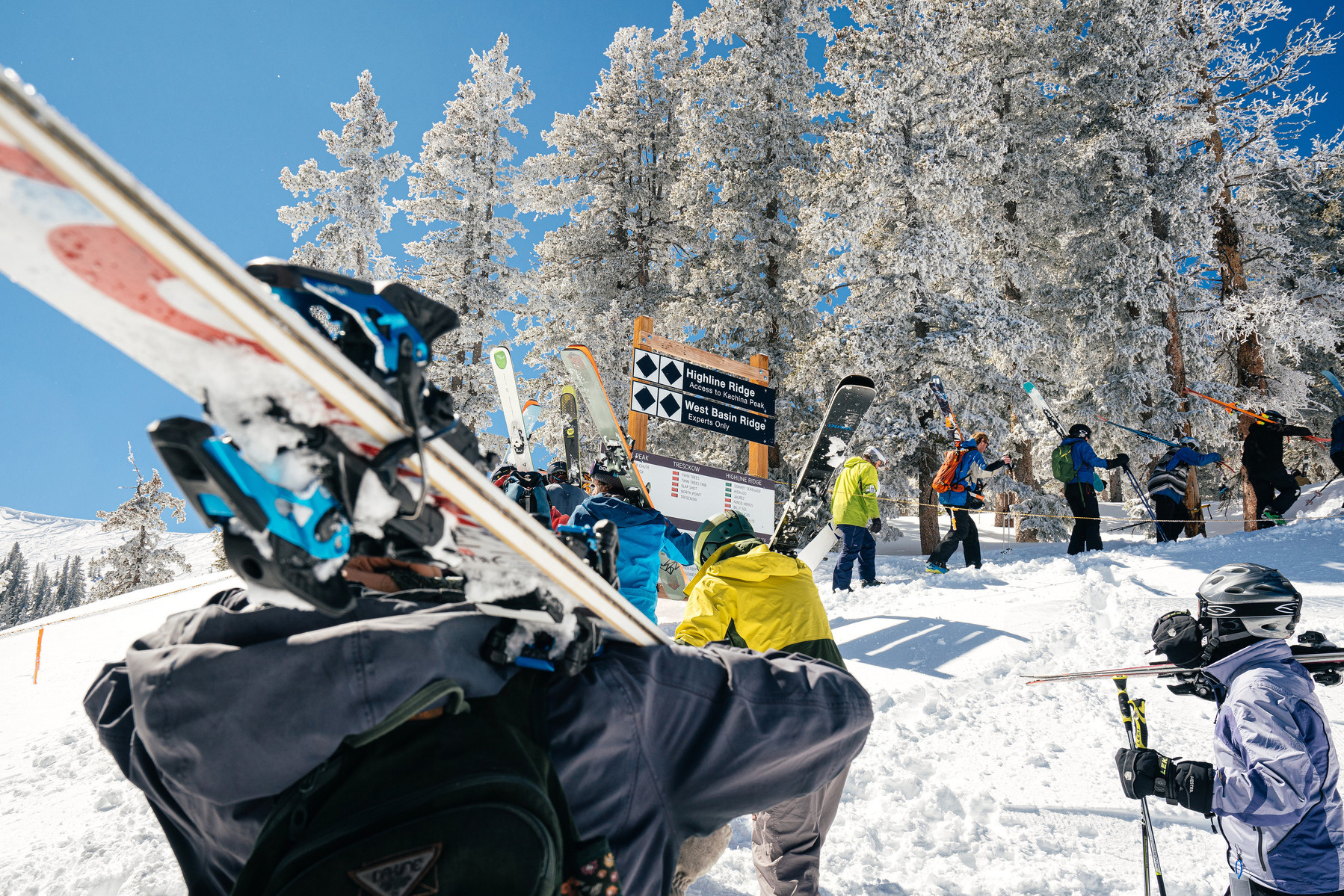 After Emma hiked back up, I skied down about 1/3rd of the way and shot her flying down. She paused and I skied past her and repeated the process. We got a couple of good images and I put my camera back in my backpack, zipped it closed and strapped it to my body. Emma and a co-worker were waiting for me at the bottom. I began to ski down and several turns in, I was in the air. I really don't remember what happened but I caught an edge and found myself launching out of a ski falling. "No problem, this happens!," I thought to myself, feeling a bit embarrassed. The problem was that my ski was about 20ft uphill. Feeling the eyes watching me from below I used the one ski still on as a platform to step up with, and my poles laid out to spread my weight and pull myself up. It felt like it took an hour to climb up and reach my ski. Right as I was close enough to reach my ski with my pole, a member of our ski patrol showed up and offered to hand it to me. I took the help. He asked if everything was OK and if I needed anything else. My heart was pumping and I was out of breath from crawling up the steep slope in the fresh powder, but I told him no and thanked him for getting my ski. I got it back on and finished the descent to my party who had to wait way too long for me to get down…but, I got a great photo of Emma flying down Juarez the first day our expert terrain was open for the '19-'20 ski season!
We are an IKON Pass resort, meaning with an IKON Pass you can come ski at Taos and a ton of other ski areas all over the world. IKON had a group of young skiers touring the North America resorts. They traveled in a branded RV with tons of swag to give out and a desire to go hard on our slopes. The team arrived in Taos in mid-January, right in the middle of a great storm cycle, which meant fresh powder! The thing about photographing people on fresh snow is that you have to plan your descent so it doesn't mess up the snow where your subjects are going to ski. So I went down through the trees with little room for error to get to a vantage point where I could shoot them. One of our local skiers, Sean Horner, went first. He made a beautiful carve on a really exposed cliff, right near the edge. Then I scrambled to get my camera to my eye as Thor Retzlaff launched that same cliff with a ~25 foot drop he'd never seen before. That photo wasn't great because his ski suit blended in with the trees, but it showed me how hard he and his friends went.

The next day the resort was able to open Taos' iconic Kachina Peak. Where do you think the IKON crew wanted to go first? Johnny Egan threw a 360 off the top cornice which set the pace for the morning. One of our local skiers, Jimmy Loder, sent a strong safety grab right after. I followed the group down and they wanted to launch a rock face. They waited for me to scoot my way down the steep double black diamond adjacent to the rock. Thor said, "I'm going to backflip it!" and without hesitation, he just did it. I'm glad I had my camera settings ready and set up. I brought it up to my eye as he picked up speed and bursted 10 frames per second as a massive backflip took place on our iconic peak. I skied with them for another hour or so getting some great images, but I knew that backflip wouldn't be topped. It performed well on our social channels and is one of my favorite images I captured this season.
In February, we hosted the B Summit and B Leadership conferences, where business leaders and climate activists (some being pro skiers and snowboarders) come to discuss how business can be used as a force for good. They also get to ski our slopes between those meetings. One day, the snow began and kept on coming through the night. In the early morning the clouds cleared and the Sun rose to a blue sky. This is about as good as it gets for skiers (and ski photographers): tons of fresh snow and bright sunlight to enjoy it with. Well actually, it can get better. Our CEO arranged an early lift opening for all the people participating in the B Summit. There were about 50 of us at the lift at 8am, an hour before they open to the public. Everyone present that were not on our staff had to be escorted by someone who worked for Taos Ski Valley. I wasn't going to miss out on this snow, so I was prepared to go with anyone. I brought my camera gear just in case there were any good skiers in my group, and to my surprise I was quickly (and casually, I might add) being introduced to Caroline Gleich and Forest Shearer. I was going to be their "guide". If you're unaware of who these two are, well, they don't need someone like me as a guide on any mountain.
We took a warm up lap on our mountain's front side steeps before heading up top. After a ride up Lift 2, we received permission from Ski Patrol to hike, hoisted our skis over our shoulders (the hiking to expert terrain is a common theme I hope you're picking up on) and began walking up. We were headed to untouched snow on a sunny morning with no one else on the mountain. At the top put our skis back on and rode the West Basin ridge almost as far as it goes to the north. We were aiming for a run called Wonderbowl on my suggestion. While it's not the most technically challenging, it is just bathed in the morning sunlight. They waited at the top while I started my descent, stopping 1/3rd of the way down to shoot some frames of Caroline in waist-deep untouched powder. As I continued down, the snow was so soft, dry, and perfect. My Salomon QST 106mm skis just floated silently over the untracked snow. I pulled the camera out, trusting Sony's continuous AF to track the speedy pros who each blasted down right in front of me. I tend not to look at my images until I'm back at the computer, but I knew the light was amazing and I'd have shot them all day if they let me. They were all interested in getting some fast, mean lines before their speaking panels later that day. As much as I'd have loved one more session, taking photos of skiing/riding takes a lot more time than just doing it so I let them go, hoping there was at least one good photo on my memory card.

In early March, Taos hosted several Freeride World Tour Qualifier events. This brought a ton of skiers/riders of all ages to our slopes. In addition to athletes, their families, friends and locals come to watch the amazing skiing and riding competitions. I brought out my big Nikon 500mm f/4and set up at the bottom of the hill, shooting up with this monster lens. One of the athletes, Chanc Deschamps-Prescott, approached me to ask if I got shots of one of his friends, andI noticed he had an Alyeska Ski Resort Logo on his helmet. I'd spent a lot of time skiing Alyeska when I lived in Alaska so it was easy to start a conversation. I asked him if he'd be down to do some photos the following day when the competition was over and he told me he'd be down - and so would his friends!The next day I had a crew of 4 skiers headed up the Kachina Peak lift to find some lines and spots to get air on. I shot some frames of them launching off a cornice into a run covered in moguls called K5. I needed to ski down to the group now. I began my descent and after a season of skiing steep runs, avoiding trees with amazing skiers I found myself navigating the steep moguls with speed and confidence, getting down to the guys quickly! I felt good on these moguls, not worrying about the camera gear on my back. We wound up taking two laps on Kachina that afternoon. We got some great images, including my favorite photo of the season: one I casually set up, where a skier named Colton Shaff flew off a rock doing a 360 with a grab on our iconic Kachina Peak.
Several days later COVID-19 concerned ramped up, and each day we were scrambling to figure out how our ski resort would handle it. We ultimately decided to close on March 15, and that was the end of our season. It feels like I took my skis off for the last time a couple of days ago…but, it's been just over 3 months in real-time. This season my skiing abilities changed. Before, I felt like I could get down anything eventually. Now, I feel like I can do it with some style, some speed and without worrying too much about damaging the gear on my back. I'd like to thank all the skiers/riders that gave me their time and took the risk to throw down in front of my camera. Thank you for being patient with both my skiing ability and desire to try over and over to get that perfect shot. I can't wait to link up with athletes I know, and new ones, again this winter!
Before editing, this blog was way too long. I tried to write up many different sessions I had with skiers. Below are some images I enjoyed taking too. I just had to cut their stories to not make this the longest blog you never read.