Our night sky is full of amazing wonders. I've photographed aurora borealis, two solar eclipses, as well as the International Space Station transiting the Moon and Sun. I was young when Comet Hale-Bopp crossed our skies in 1997, but I remember vividly seeing it with my parents. After 23 long years, we have another celestial wanderer in our sky! It's definitely something worth getting excited about. Several people have reached out to ask my advice on how to photograph a comet, so I put together this guide.
Gear:
I find it refreshing, after collecting all of the equipment necessary for astrophotography, that all you need in order to photograph Comet NEOWISE is a camera, a lens, and a tripod. Most of the time, astrophotographers have to use telescopes and mounts that track the stars to counteract the movement of the stars. But, Comet NEOWISE is bright enough to be enjoyed with the naked eye and photographed using entry-level photo gear!
I use a Sony a7RIII and a Sony RX1RII daily to create images and for shooting the comet. My preferred lenses for this situation are the Sony 70-200mm f/4, a Nikon 105mm f/2.5, a Canon FD 300mm f/4, and the 35mm f/2 that the RX1RII has built-in. Keep in mind that you'll be shooting in the dark so a wider aperture is helpful.
I like having options in my bag, like long telephoto lenses to capture up-close details of the comet, short telephotos and even some wide angles to capture the surrounding landscape. I personally wouldn't shoot this wider than 35mm but you should feel free to experiment and see what works best for you!
Finding the comet:
Comets are not seasonal, but they are hard to predict and are temperamental. Just because it's bright now doesn't mean it will stay that way. It could begin dimming any moment – so if you want to get a photograph of Comet NEOWISE, now is the time! It can currently be seen in the morning skies but will soon become visible in the western, evening sky.
In order to predict the comet's location, I use Stellarium software when I'm on my computer, and on my iPhone I use an app called Starmap 3D+ ($2.99). One of my favorite features in both Stellarium and Starmap 3D+ is that you can change both the time and location. So, whether you're looking at the current night sky, or trying to figure out how/where to photograph Comet NEOWISE next week, it's easy to do.
Composition:
I understand the desire to want to photograph the comet as close as possible with your longest lens. Using a longer lens requires shorter exposures to avoid star and comet trailing, or using a tracking mount that is properly aligned to the celestial pole in order to get good results. My most successful comet photos have been taken using just a camera and a tripod to shoot it and include the foreground. Consider what your audience would find more compelling - a photo of just the comet in the sky (with no context), or a landscape or cityscape with the comet hovering over it? I know what I'd rather see.
Play around with lenses you have, and see what works for you. If you need to rent a lens I'd suggest a 70-200mm f/2.8 to give you a range to experiment with and a fast aperture that allows for shorter exposures. Be sure to pay attention to the comet's tail - you don't want to cut it off in your image. It might appear faint to your eyes, but your camera's sensor can show more.

Camera settings:
Aperture: You're photographing the dark night sky, so be sure to open them up. In an ideal world, you'll have an f/2.8 or faster lens. If you don't, still give it a try, f/5.6 can work too…just open your aperture as wide as it can go.
Shutter Speed: Remember, the sky isn't moving, it's the Earth that is! Either way, the sky above you appears to move and you need to be aware of how it will affect your shot. You don't need a super-fast sports setting but you want it to be relatively quick. I tend to keep mine between 1-5 seconds using a telephoto lens. With a wide-angle lens, you can get away with 10-20 seconds! If you want to learn more, Photo Pills has a great calculator to help you figure out the longest shutter speed with your lens/sensor combo.
ISO: It's OK to crank your ISO up a little bit. It's dependent on how bright the sky is, the light pollution in your area, and how bright the comet is at the time you're photographing it. As I mentioned, NEOWISE appears in the morning dawn now, but it will be moving to the evening, and later, the night sky. I'm lucky to be in an area with little light pollution so I've tended to keep my ISOs between 800 and 1600 depending on the ambient light in the sky and my lens choice.
Focus: Always manually focus for photographing a comet - you don't want to rely on your camera's autofocus setting and find out later that it didn't nail the focus. Use live view if you're on a DSLR and zoom it in so you can really make sure you're in focus. It might help to use the Moon, a planet or a bright star for you to get your focus. Take control of your focus ring and get that bright star or planet as small as you can.
Note, some lenses can focus past infinity, so if your target starts to get bigger, rotate the ring in the opposite direction to make the star pinpoint sharp. Now you can compose your shot with the comet, confident in your focus.
Finally, if you have a wired or wireless remote trigger, be sure to use it. If you press the shutter button on your camera you can cause your photos to suffer from camera shake. If you don't have a trigger, be sure to set a 5 or 10-second delay in your drive mode so it gives the camera time to settle down on the tripod before it exposes!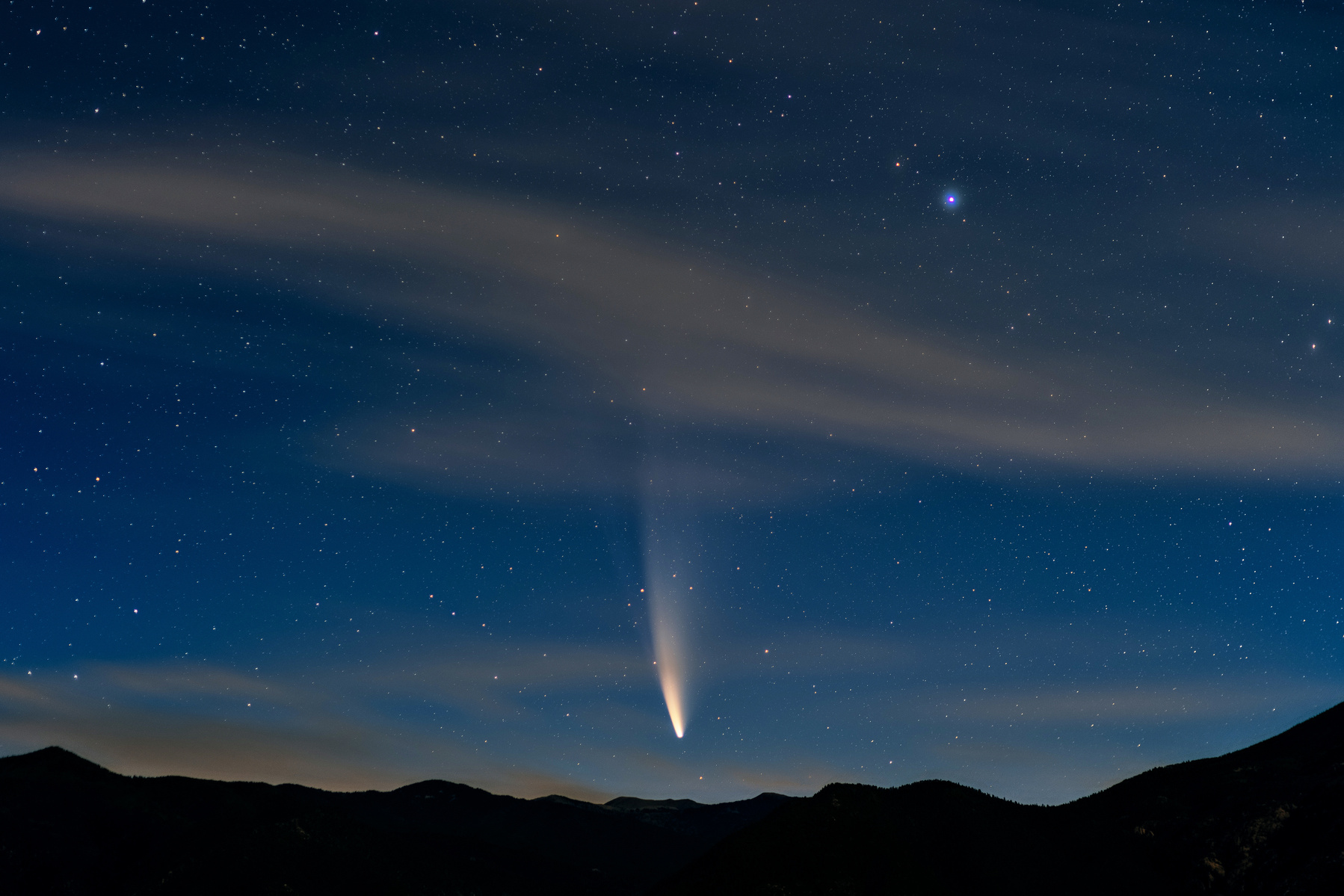 Weather:
When you're working with nature and other natural elements you have to accept you don't have control over things like heavy clouds and moisture that might prevent you from getting the shot. If you're driving to a location to photograph Comet NEOWISE, I'd recommend looking at the weather so that you aren't wasting your time. Light clouds can be dramatic and add to the scene, but heavier clouds mean the comet won't be able to shine through at all. Patience is a virtue that's almost required when photographing nature and the night sky.
The comet is scheduled to be with us for much of the month of July, which means if the shot doesn't work out for you one morning or night, you can try again!
I hope this helps as you plan how to photograph Comet NEOWISE. While you're out, don't forget to set your camera aside for at least a few moments…it's rare to be able to see a comet with your naked eye, and who knows when you'll get the chance again? Don't stress too much, enjoy the moment and good luck getting great images!
If this was helpful to you, consider following me on Instagram via the handle @mikehawkins.